Royal Wedding (MGM) (Public Domain) is a 1951 Hollywood musical comedy film known for Fred Astaire's dance performance on a ceiling and with a coat rack.
The story is set in London in 1947 at the time of the wedding of Princess Elizabeth and Prince Philip.
Starring Fred Astaire, Jane Powell, Peter Lawford, Sarah Churchill and Keenan Wynn.
Music by Burton Lane and lyrics by Alan Jay Lerner.
The film was directed by Stanley Donen. It was his second film and the first film he directed by himself.
Astaire and Powell play a brother and sister song and dance duo, echoing the real-life theatrical relationship of Fred and Adele Astaire. Powell, who was not first choice for the role, surprised her colleagues with her all-round ability. She falls for Lawford, who plays an English aristocrat – mirroring Adele Astaire's romance and eventual marriage to Lord Charles Cavendish, son of the Duke of Devonshire.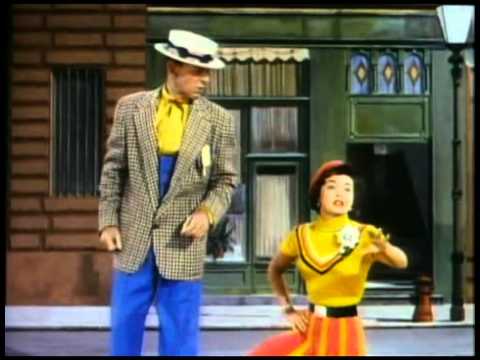 SONGS :
« TOO LATE NOW »
Music by Burton Lane, Lyrics by Alan Jay Lerner
Sung by Jane Powell
« EV'RY NIGHT AT SEVEN »
Music by Burton Lane, Lyrics by Alan Jay Lerner
Sung by Fred Astaire and chorus, Danced by Fred Astaire and Jane Powell
« SUNDAY JUMPS »
Music by Burton Lane
Danced by Fred Astaire
« OPEN YOUR EYES »
Music by Burton Lane, Lyrics by Alan Jay Lerner
Sung by Jane Powell, Danced by Jane Powell and Fred Astaire
« THE HAPPIEST DAY OF MY LIFE »
Music by Burton Lane, Lyrics by Alan Jay Lerner
Sung by Jane Powell
« YOU'RE ALL THE WORLD TO ME »
Music by Burton Lane, Lyrics by Alan Jay Lerner
from « I Want to Be a Minstrel Man » in Kid Millions (1934)
Sung and Danced (on walls & ceiling) by Fred Astaire
« I LEFT MY HAT IN HAITI »
Music by Burton Lane, Lyrics by Alan Jay Lerner
Sung by Fred Astaire, Danced by Fred Astaire, Jane Powell, chorus
« WHAT A LOVELY DAY FOR A WEDDING »
Music by Burton Lane, Lyrics by Alan Jay Lerner
Sung by Keenan Wynn and chorus
« HOW COULD YOU BELIEVE ME WHEN I SAID I LOVED YOU WHEN YOU KNOW I'VE BEEN A LIAR ALL MY LIFE »
Music by Burton Lane, Lyrics by Alan Jay Lerner
Sung and Danced by Jane Powell and Fred Astaire